COMPLETED PROJECTS AND ACTIVITIES

Ahmet III Fountain Square Reorganization
1979
As part of the project titled "Project on the Reclamation of Sultanahmet's Historical Site for Tourism", a cafeteria was created in the first courtyard of Topkapı Palace. In 1980, projects were completed on the reorganization of Ahmet III Fountain Square as well as the Bab-ı Hümayun Street infrastructure.

Mahmud I Library, Hagia Sophia
1979
Located in the Hagia Sophia museum, the library was commissioned by Mahmut I (1730-1754) in 1736. The rosewood bookshelves and glazed wall tiles were restored, and the hand-drawn decorations in the reading room were restored.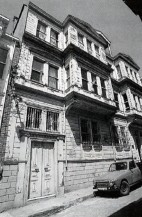 Kayserili Ahmet Paşa Mansion, Süleymaniye
1979
An important example of Turkish civil architecture, this wooden mansion is a significant cultural asset. The owner and the contractor made a deal to bring down the mansion, which was then partially demolished.
Read More...

Conversion of the Patrona Halil Hamam into a Library
1979
A project was created to convert into a library the hamam that is also known as the Bayezid II Hamam.

Restoration of the State Museum of Painting and Sculpture, Beşiktaş
1979
Restoration work was carried out in the various sections of the building, which is included in the Crown Prince's Chamber complex of the Dolmabahçe Palace.