COMPLETED PROJECTS AND ACTIVITIES

"The Future of Büyükçekmece Entrusted to the Youth'' Essay Contes
2011
Organized in collaboration with the Municipality of Büyükçekmece, the essay contest aimed to raise sensitivity and awareness on the protection of monuments and natural areas in Büyükçekmece. Accordingly, the essays penned by 5th graders were evaluated by the jury, and the winners were given their awards at a ceremony held at İstanbul Büyükçekmece Atatürk Cultural Center.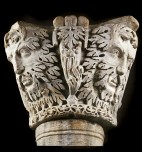 'Cultural Heritage, Problems and Solutions in İstanbul' Panel Series
2011-2010
Organized from November 2010 to May 2011 by Architects Feyhan İnkaya Takaoğlu and Fatih Kesgün under seven themes, this panel series aimed to address the misinterpretation in Turkey of laws on restoration and preservation and to the challenges created by such misinterpretations. The seven topics featured in the series included: Atatürk Cultural Center, Construction of an Annex to the Four Seasons Hotel, Archaeology Park and Examples from the world; Preservation of Wood Buildings; Problems of Museums and Museology; Topkapı Palace and Problems It Faces; Renewal Areas and Their Problems; Preservation of Stone Buildings and the Problems They Face.
Read More...

Architecture and Graphics Awards
2011 – 1979
One of the most important events realized by TAÇ Foundation in the field of conservation and restoration of cultural assets, has been the awards organized for students studying architecture in Turkey and engaged in designing works in the said fields. Since the 1997-1998 academic year, graphics department students have also been included within the scope of the awards in addition to architecture students. After being collected at TAÇ Foundation as per the specifications organized annually, the projects were then evaluated by the jury, and the plaques and awards were presented to the students. The judges of the last Conservation Project Award organized in the 2010-2011 term in collaboration with Mehmet Zorlu Foundation included Emre Arolat, Prof. Dr. İlgi Yüce Aşkun, Gökhan Avcıoğlu, Prof. Dr. Ziya Gençel, Prof. Dr. Hasan Şener, Han Tümertekin, Dr. M. Sinan Genim, and Köksal Anadol.
Eminönü, Kiraz Han Restoration
2010
Kiraz Han is situated in the Eminönü section of Ragıp Gümüşpala Street, which connects Eminönü and Unkapanı. To its north (to the street) is a fortification wall that is left over from the Walls of the Golden Horn. These two works, which have connected one another over time, constitute a whole.
Read More...

"Our Future Entrusted to the Youth" Essay Contest
2010
Created as a partnership between TAÇ Foundation and the Ministry of National Education, a total of essays were entered from 56 provinces in the "Our Natural and Cultural Assets Entrusted to the Youth" essay contest, where an award ceremony was held at Pera Museum Auditorium with the participation of 10 winning students.