COMPLETED PROJECTS AND ACTIVITIES

Tavuk Pazarı Hamam (Meyhaneli Hamam), Bursa
1985
The hamam is located on Cumhuriyet Avenue, next to Pirinç Han. The market area where it is situated is called Tavuk Pazarı (Poultry Market). The market was commissioned by Sultan Murat II in the early 15th century. The structure, a part of which was demolished for a street construction, is a double hamam. The relief drawings and the restoration projects of the privately owned hamam were prepared by TAÇ Foundation.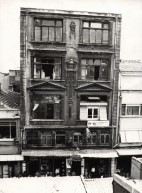 Çavuşhan, Eminönü
1984
A restoration project was planned and the application drawings were prepared for the historic structure, which is known as Yılmaz Han today (formerly Çavuşhan) owned by the Turkish Educational Foundation (TAV).
Çaykent Hotel, Beyoğlu
1984
Relief drawings were prepared and a restoration project was planned for the old structure, which was used as a hotel owned by the Turkish Educational Foundation (TAV).

Two Houses Inside the Old City Walls, Ankara
1984
The estimation project and application drawings were prepared and restoration work was carried out for the two houses within the old city walls, which were allocated to TAÇ Foundation at the time.

Central Bank of the Republic of Turkey, İstanbul branch, Karaköy
1984
The necessary building inspection and restoration projects were prepared for the historic Central Bank building on the Bankalar Street in Karaköy.