COMPLETED PROJECTS AND ACTIVITIES

Assos Excavations and the Athena Temple
1986
The restoration of the Athena Temple was started, stone plaques on its stylobate surface were rebuilt and two full and two half columns to the north and three full columns to the south were restorated and ereceted together with their capitals.
Kızılay Water Front Residence, Vaniköy
1986
Relief drawings and other inspections were made at the waterfront residence, which is officially registered as a historical building owned by the Turkish Red Crescent.

Bandırma Terminal Hotel (Cultural Centre)
1986
Inspections, relief drawings and restoration projects were prepared and renovation work was done as part of a program prepared to put the old Gar Hotel in Bandırma to use as a cultural center.

Rayet Keşan Kalfa Çeşmesi
1986
This fountain is located in Gümüşsuyu, Eyüp. Before the commencement of the renovation, surveys were made on the fountain and the earthfill and some concrete additions that had changed its original appearance were removed.
Read More...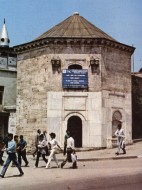 Taksim Water Reservoir
1985
The structure was commissioned by Mahmut I in 1732-1733. The water and canal systems of Taksim Water Reservoir and its fountains were renovated in cooperation with İSKİ (İstanbul Water and Sewer System Administration).
Read More...