COMPLETED PROJECTS AND ACTIVITIES

Akaretler, Foundation Buildings
1986
Relief drawings were prepared for the foundation buildings in Akaretler, Beşiktaş.

Kızılay and Malatya Commercial Buildings, Eminönü
1986
TAÇ Foundation conducted the work on the registration of the Kızılay and Malatya Commercial Buildings as histrorical structures as well as preparation of their relief drawings and other works.

Kabataş Boys' High School
1986
The school is part of the Feriye Palace complex. The restoration of the façade, plaster repairs, reconstruction of the damaged woodwork, and façade painting have been carried our by TAÇ Foundation.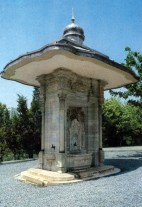 Fountain of Abdülhamit II, Maçka
1986
The fountain was commissioned in 1901 by Abdülhamit II in Tophane as an integral part of the social complex behind the Nusretiye Mosque. Since the fountain was in rundown condition and in disrepair before the renovation started, surveys were conducted as first order of business before its basins were cleaned of the garbage and sand deposited and its canal connections were established. The façade was cleaned and missing pieces were rebuilt as in accordance with its original state. Based on the old photographs of the fountain, the slopes of the eave tips were changed and the roof was covered with lead.

Park and Garden Designs for Zeyrek and Fil Slopes
1986
The designs made by TAÇ Foundation were implemented by Fatih Municipality.