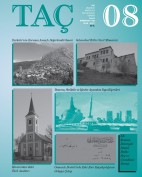 2016 - 2017
TAÇ Journal No. 08 is out now!
Read More...
2016 - 2017 Lecture Series
TAÇ Foundation provides lecture series in the fields of architecture, restoration, preservation, conservation, conservation law, archaeology, museology, historic environment and cultural heritage. All lectures are free of charge and open to the public, except where noted.
Read More...